In the midst of this Suicide Prevention Month, we are especially pleased to introduce you to Littleton, Colorado-based clinical social worker Julia Timmerman, who recently launched her new website and brand identity with Media Salad's help.
In private practice with more than 15 years of experience, Julia specializes in treating adolescent substance use, anxiety, depression, trauma, grief and loss. She is committed to establishing enduring partnerships with her clients and has been part of the development and application of the most up-to-date treatment methods for a wide range of adolescent-specific healthcare needs.
Julia focuses on the integration of mental healthcare and substance use treatment — and that's why she contacted Media Salad, seeking our communications and marketing know-how to help her grow her recently relocated practice. Aware of Media Salad's expertise in mental health and addiction treatment and our ongoing work with mental health professionals in Colorado, Julia trusted our team would understand her needs.
As we worked closely with Julia to learn about her vision, mission and goals, Media Salad also took into account her budget and focused on creating an affordable, effective and sustainable solution for her. We delivered a vibrant and easily accessible web presence that communicates her professional experience and skills, details her approach to treatment, and conveys her warm and engaging personality to prospective clients.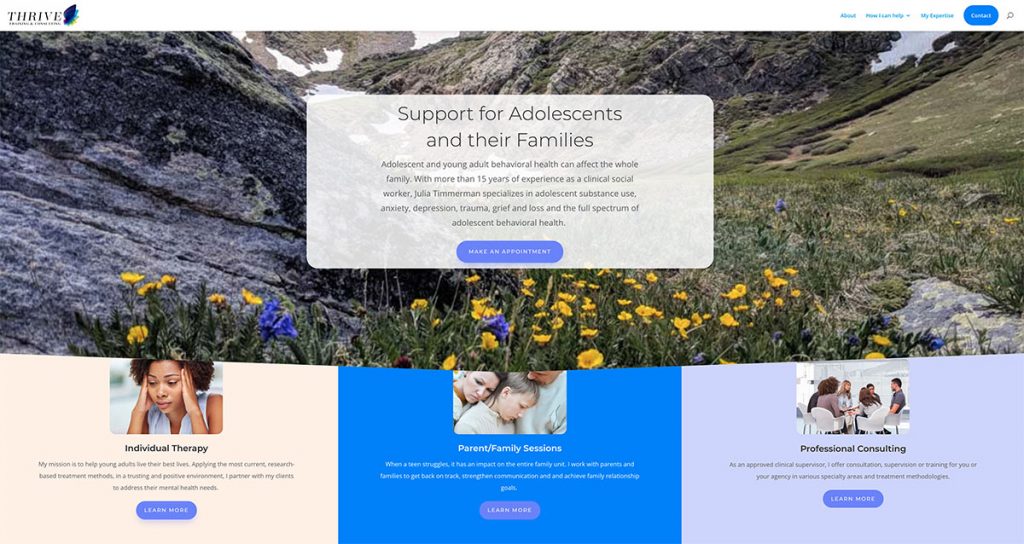 To keep costs down, we developed a sleek, one-page website with carefully curated content that tells both Julia's story and the story of her practice. Some happy surprises along the way were that Julia is a prolific writer who immediately brought her voice to the website through blog posts. She also is a talented photographer who was able to supply feature images for the site — making it even more uniquely hers.
But as the Media Salad team was completing its work and preparing to launch thrivetrainingconsulting.com, everyone involved in the project also realized Julia needed a graphic identity that would be uniquely hers, too. In short order, Media Salad developed a fresh, new logo for the practice, with a custom color and font palette in keeping with the look, feel and personality of Julia's website.
Now, thrivetrainingconsulting.com provides families looking for mental healthcare services a complete snapshot of Julia Timmerman's therapy practice and her treatment style. With first impressions being critical to the growth of any business, Media Salad's attractive and efficient solution provides Julia with an invaluable tool that introduces her practice to her new community of Littleton.