DIFFERENCE
Four reasons Media Salad is the fresh approach you need
We deliver rock-solid market intelligence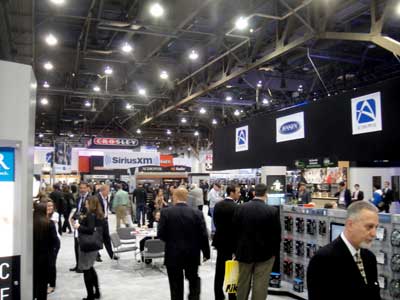 With Media Salad's veteran reporters on your team, you really do stand a chance of being everywhere at once.
For example, the chief executive officer and lead analyst of a cyber-security firm headquartered in Colorado called on Media Salad for help only a few days before heading to a large trade show in Las Vegas. Their goals were to make meaningful and personal connections with executives at a half dozen target companies and to walk away with at least a dozen solid sales leads.
Covering the show floor — where nearly 1,000 companies and organizations were exhibiting — would have been tough without a smart plan and the help of Media Salad. We're experts at gathering information in just about any mission-critical environment. Before the show, we recommended ways for the executives to navigate the event quickly and efficiently and briefed them about target companies and key contacts scheduled to appear there.
During the show, a Media Salad reporter worked on demand from our office to handle the executives' requests for information. As they collected business cards and brochures and gleaned leads from conversations, they alerted the reporter — who put the information into context specifically relevant to the cyber-security firm.
"Media Salad connected the dots in ways we never could have in a place like that. So many people we talked to were really impressed by how much we knew about their industry and their operations. Our business-development efforts got off to a great start."
We start with business strategy and build relevant content.
Whether we're working within a large company's marketing department or sitting alongside a visionary entrepreneur, we start by understanding a client's business and specific goals for it. We can work within established plans for reaching those goals — and we can help develop those strategies, too. The content we deliver is aligned with our client's vision and objectives — and also underpinned with industry knowledge that promotes our client's expertise in the marketplace.
For example, Media Salad is the virtual marketing department for a successful multilevel marketing sales executive who has more than 10,000 independent sales consultants working on her team. Every day, those consultants log into a password-protected website Media Salad built to help them expand their home-based businesses and run them more efficiently.
When we started with this online network, we got to know the consultants' sales process and the weak points within it. From this analysis, we now produce regular doses of insightful information to help the consultants stay on top of market trends and learn more about the products they're selling and the company they serve. They also can connect with the rest of their team for fresh ideas and inspiration.
Our sharp-looking info graphics and sales collateral also help ensure consultants' presentations are always polished, timely — and consistently reinforcing the larger company's brand.
Even better? Media Salad's consistent communications management of the team's sales portal, e-mail dispatches and social media network allow the sales executive in charge to focus where her attention truly is needed.
We can start from nothing to build a well-oiled communications machine.
Media Salad's team members have helped develop and manage operations for some of the world's largest news organizations — so we know how to build efficient and effective communications processes and departments for companies of all sizes. For some organizations, Media Salad serves an internal business communications team charged with handling all aspects of communications. For others, we are an outsourced marketing department. For still others our team works as a consultant, savvy sounding board and/or trainer for in-house staff.
For example, a senior vice president for a global Fortune 100 company needed help communicating with his executive leadership team members in three countries, the business group of nearly 2,000 employees he oversaw, and more than 20,000 other employees in more than 600 locations worldwide.
Where and how to begin? The executive wasn't sure. He was relatively new to the company himself, and his sizable business group was the result of a recent corporate reorganization. All he knew was that he needed standardization, structure and skilled writers and editors fast because the company's thousands of workers needed to hear daily from his global enterprise business teams — which included IT support, cyber and physical security and real estate services.
The executive also knew he needed an experienced "editor in chief" to work across his business groups and in concert with the company's global corporate communications team because he did not have the professional experience or time to provide adequate supervision.
Media Salad stepped in first to survey the internal business communications landscape and to devise daily work flows that would bring order and cohesion to the business groups' communications with the rest of the company. Working with in-house resources, Media Salad developed more than a dozen SharePoint sites to build out the corporate Intranet. Simultaneously, our experienced team members worked alongside the company's employees to establish communications style guides, document and email templates, and editorial and publishing processes where they were needed.
Then we set about filling all of those communications vessels with business information focused strictly on helping tens of thousands of employees and contract workers better understand how to do their jobs effectively and efficiently. Media Salad set up and maintained corporate governance libraries. We prepared how-to guides for everything from password resets to choosing the best headsets. We edited and designed executives' sales presentations, and we summarized their business-development strategies, making complex concepts easy to understand.
All the while, we categorized, tagged and keyworded every item of content to help employees find exactly the information they needed when they needed it. In just 16 months, Media Salad produced more than 900 pages of information for the company's intranet, and its content was the No. 1 most searched information by the company's employees.
Because our team understands the the company's business objectives and the needs of its in-house communications staff so well, we also continue to be a trusted partner in the company's internal business communications.
We tell important stories with world-class visuals.
You have only seconds to grab the attention of your target audiences, and mere minutes to convey important information to them. We'll help you make the most of the time you've got. From corporate collateral and courtroom exhibits to RFP responses and digital designs with geolocation, our infographics specialists have sharp eyes for critically important technical details.
For example, in 2015, a federal program charged with providing assistance to Rocky Mountain law enforcement agencies released a report about marijuana's impact on Colorado. Though full of crucial insight and essential information, the report was drab, dry and not optimized for mass consumption.
Nevertheless, the report was an important source for The (Colorado Springs) Gazette's series "Clearing the Haze."
Media Salad synthesized the report into about a dozen key findings and used our visual acumen to assist the newspaper with a full-page editorial. Brief excerpts from the report were paired with crisp data visualizations. The message now was clear.