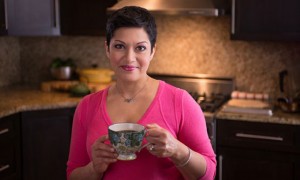 Media Salad's roots are in decades of award-winning, investigative journalism, so we're big supporters of journalists who are using their subject-matter expertise, mad communication skills and entrepreneurial sense of adventure to build companies and launch new products and services.
Among them is Anupy Singla of Chicago.
She was once the morning face for CLTV and a business reporter for WGN, TV networks owned by the Tribune Co. Anupy left daily reporting to write cookbooks and now has three under her belt — two of which are the top-selling Indian cookbooks in the United States: The Indian Slow Cooker and Vegan Indian Cooking. Her third book, titled Indian for Everyone, will be released in October. Today, Anupy also runs a growing food and housewares company, Indian as Apple Pie, which offers its own brands of sauces, spices, cookware — and dynamic cooking instruction.
Anupy likes to say everything comes together as a celebration of her Indian roots and American upbringing with great food for families.
And now she's ready to take all of her hard work back to television.
Anupy recently received preliminary approval for an Indian-themed cooking show with a public television station. The six-episode series of 30-minute shows aims to transport Americans to India, where they'll learn more about the country, culture and cooking traditions of the food they love so much.
She has launched a Kickstarter campaign, a method of crowd-funding, to launch her latest project — which we're cheering for because we, like, Anupy, would like to see more diversity and ethnic food programming on television.
Anupy hopes to raise $30,000 by Sept. 17. To contribute to the campaign, head to Indian as Apple Pie's Kickstarter page. If you have questions, Anupy welcomes hearing from you at anupy@indianasapplepie.com.